Concare Career Opportunities
Join the Concare Team!
At Concare, we're searching for new talent to expand our team. All of the Concare employees share in the Concare vision, mission and goals:
customer focus
Prompt, courteous and respectful
Safe work history and environment
Ability to work with time-sensitive deadlines
Flexible Schedule
Drug-free
Open Positions
Flooring System Installer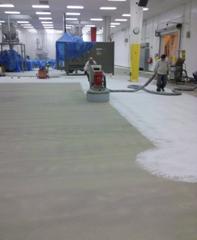 Learn a skilled trade in a stable company with immediate advancement opportunities and great income potential! Concare, Inc. is currently hiring Flooring System Installers. With an average of at least forty hours per workweek, Concare, Inc. installers are on-call, year-round for jobs both in and out of the Chicagoland area.
Flooring system installers must be able to:
Regularly perform heavy labor
Maintain a flexible schedule
Occasionally work out of town (covered expenses)
Possess a valid driver's license
Speak and read English (Polish or Spanish billingual a plus)
Pass a drug test
Previous experience with resinous polymer flooring and power tools is helpful, but not necessary.